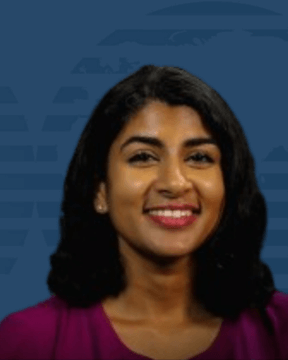 Program Officer at CIPE's representative office in the Philippines.
Srujana supports the design and implementation of a portfolio of projects related to women's economic empowerment, digital economy, freedom of information, gender diversity and inclusion, and governance. She previously served as the Knowledge Management Officer on the Policy and Program Learning team at CIPE, where she focused on capturing and sharing lessons, resources, and best practices from CIPE's programs around the world.
Srujana has worked on cross-regional women's empowerment programs through the Women and Girls Empowered (WAGE) global management consortium, which aims to advance the status of women and girls through cross-cutting interventions that strengthen the capacity of civil society organizations, advance the women, peace, and security agenda, and support women's economic empowerment. Prior to that, she was a Research Analyst at the Global Knowledge Initiative working on collaborative innovation for agriculture related challenges. She holds a Master of Public Policy from Georgetown University, with a concentration in International Policy and Development, and a B.S. in International Relations and Politics from Carnegie Mellon University.