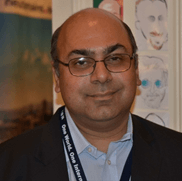 Senior Director, IDN and UA Programs, ICANN
Sarmad Hussain has been with ICANN's Internationalized Domain Names (IDN) and Universal Acceptance (UA) Programs since 2014. Before joining ICANN, Sarmad was a professor of Computer Science at University of Engineering and Technology in Lahore, where he held the IDRC Chair in Multilingual Computing. His research has focused on developing computing solutions for Asian languages, including research in linguistics, localization, language computing standards, speech processing and computational linguistics. He led the PAN Localization program from 2004-2010, which saw the development of local language computing capacity across developing Asia, including Afghanistan, Bangladesh, Bhutan, Cambodia, Indonesia, Laos, Mongolia, Nepal, Pakistan, and Sri Lanka.
 
His involvement with IDNs commenced in 2006 and has been actively involved in IDN country code top-level domain (ccTLD) development for Pakistan. He has been an active member of the ICANN community since 2008 and was a member of ICANN's Security and Stability Advisory Committee (SSAC) before joining ICANN as staff.
 
He obtained his doctoral degree in Speech Science from Northwestern University, USA in 1997, an M.Phil. In Computer Speech and Language Processing from Cambridge University, UK, in 1993, and a BS in Electrical Engineering (with specialization in Computer Engineering with honors) from University of Texas, Austin, USA, in 1992.